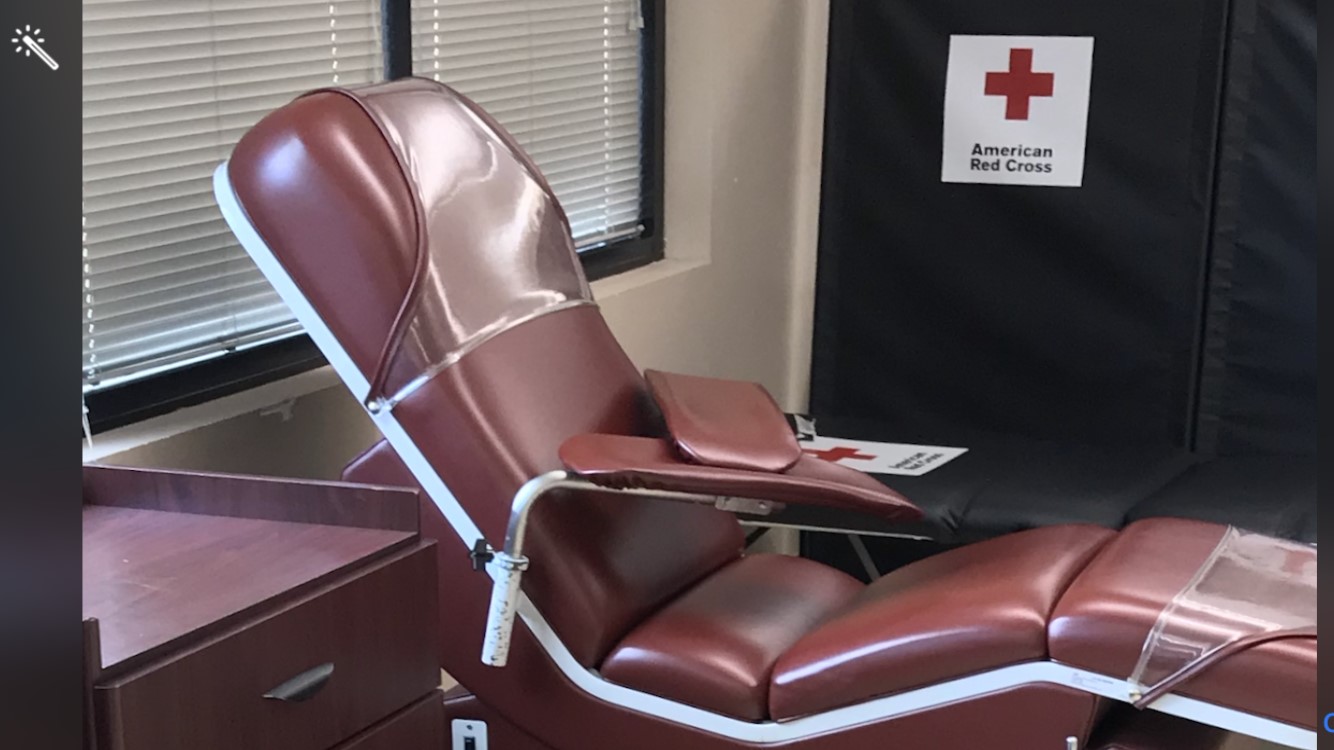 THIS CHAIR WOULD LIKE TO SEE YOU….. TOO !
Last week I did something that I have not done since high school; I donated blood.  It wasn't just a spur of the moment decision; I have a friend that receives transfusions, almost weekly, while he awaits a transplant.
The donor experience was not the same as my high school days where a couple buddies and I gave blood…one fainting as he started to leave the mobile blood center.  Today there is more time spent screening the donor, thus it's strongly suggested to set up an appointment to maximize the efficiency of your donation.  You can set up an appointment over the internet by downloading the Red Cross app.
The screening was mostly done at a computer console, along with some individual questions asked by the nurse.  The computer questions were eye opening….I have rarely been asked such personal questions and it brought to mind the seriousness of donating blood.  And, the importance of keeping your blood clean, away from sexually transmitted diseases, antibiotics, drugs, and other precautions noted in the questions.
There's not just one option for donating either! Imaging my shock walking into a blood center and being asked "What do I want to donate?" I gave the receptionist a confused, blank, dopey smile and said "huh?".  I chose just straight blood, and then received more information from the nurse as she drew my blood about the other possibilities; and the pro's and cons of each.   A donor can donate:
Whole Blood
Red Blood Cells (plasma and platelets returned to donor)
Platelets
From start to finish, it took me about 25 minutes to donate blood.  It would have been much faster had I done the screening and set an appointment through the Red Cross App.  The App will set up an appointment, suggest future appointment dates, track the number of donations, show you where your blood was used, and give a lot of other important and interesting information.
— UPDATE —
My good friend, and client, passed away while waiting for a liver transplant.  Very sad.  Only 10% of the demand for liver transplants is being met at this time.  Donating blood is one way to help, being a Organ donor is another.  I've made my second donation, and I will continue to donate blood in his honor.  The American Red Cross has a state of the art donor center in the Northwest Corner of the Vancouver Mall 5109 NE 82nd Ave, Vancouver, WA 98662.  Here's a map: Click Here